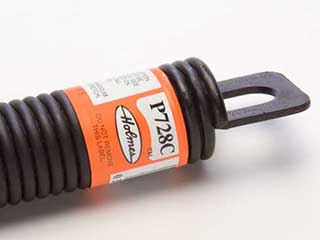 It's not uncommon for the constant wear and tear of both garage door use and other factors, such as weather, to take a toll. The springs are one of the most important pieces necessary to make sure your door lifts and closes with ease. They are what powers that motion by storing energy. If they've begun to lose that capacity you may find yourself with a door that moves slowly, if at all. If you're an on the move family who frequently comes and goes, you might find value in investing in garage door springs that are more heavy-duty and will, therefore, last longer. Our professional technicians would be happy to install them for you, ASAP!
Torsion vs. Extension
It's fairly likely that your garage door has the torsion type of spring, as it's the most frequently used. This is because they tend to last longer than extension springs, due to how they work. While torsion springs twist up tightly when your door closes to store the energy they need to lift it back up, extension springs do the opposite and stretch out to obtain this energy. This results in a lot of strain, which ultimately makes them more likely to break.
However, don't worry if your garage door has extension springs! We can just as easily tend to those, and get them switched out for a stronger, longer lasting set. Our fully trained team wants to ensure that your door will function quickly, so you don't have to fret about waiting for it to open or close.
Garage Door Spring Inspection
Not sure if your springs are rusting and in need of replacement, or even where they are to begin with? No problem! We offer a visual inspection that allows us to check the durability and state of your springs so that we can offer you the best possible service for them. Even if you're sure that they're in need of fixing, trying to do so yourself could just cause more damage. Instead, allow us to handle it for you and be sure that your door is safe for you and your family to use.
Don't Wait!
Avoid troubles down the line and the possibility of getting stuck on a day you need to get to work or school on time and call Garage Door Repair Clermont now!
We also offer:
Part Replacement & Lubrication
Genie & Liftmaster Opener Repairs
Garage Door Extension Spring Installation
Emergency Garage Door Repairs